Minimize Data Loss With AdvaStart Backup & Disaster Recovery
Simple - Affordable - Headache Free
Servers fail. Hard drives die. Laptops are lost. Can your organization afford the loss of business-critical data?
With AdvaTech's Cloud Backup and Disaster Recovery, data is backed up and stored locally at your office for rapid restores and a copy of your critical information is securely stored offsite in the cloud to ensure you can reach your data even in the event of a fire, flood, or theft.
Data Backup and Disaster Recovery
AdvaStart Backup is a cloud backup solution for businesses providing file-level backup for servers and critical workstations. AdvaStart Backup meets the challenging needs of business users, with flexible scheduling and rapid restores. Businesses that use AdvaStart Backup enjoy peace of mind knowing their critical data is backed up and secure.
With AdvaTech's Cloud Backup and Disaster Recovery, your data is backed up and stored both locally and in a secure data center. If a problem occurs, you have multiple recovery options where you can retrieve your data from your onsite backup system and if that fails, for instance due to fire, flood, or earthquake, all your critical information is stored in the cloud where you always have access to it.
Benefits
  Unrivaled data protection with business-class cloud backup

  Gives peace of mind with easy setup, management, and rapid restores

  Flexible scheduling with near continuous backup of changed files.

  All data is encrypted at the source, while in flight, and at rest

  Data centers that meet stringent compliance requirements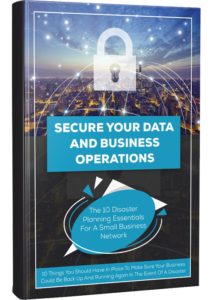 "The 10 Disaster Planning Essentials For A Small Business Network"
This report will outline  10 things your should have in place to make sure your business could  be back up and running again in the event of disaster.