Free Executive Brief Reveals
The 7 Most Critical IT Security Protections Every Business Must Have In Place Now To Protect Themselves From Cybercrime, Data Breaches And Hacker Attacks
Free Executive Brief Reveal
82,000 NEW malware threats are being released every day, and businesses (and their bank accounts) are the #1 target. To make matter worse, a data breach exposing client or patient information can quickly escalate into serious reputational damage, fines, civil lawsuits and costly litigation. If you want to have any hope of avoiding a cyber-attack, you MUST read this report and act on the information we're providing.
Free Executive Brief Reveal
The #1 threat to your business that even the BEST firewalls and anti-virus software can't protect against (and what you need to do now to remedy it).
The biggest security risks with cloud computing and what you need to do to stay safe if you're going to store client data, confidential data and financial information in the cloud.
A common misconception about business bank fraud that will shock you – and 3 simple things you can do to protect your bank account from unauthorized access and theft.
How to keep your network secure with the proliferation of mobile devices, cloud applications, e-mail, and social media sites connecting to your computer network.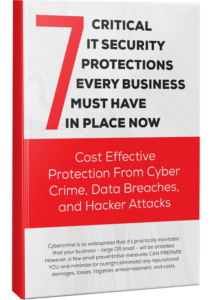 We started working with AdvaTech in late 2009 and have been very satisfied with the services. Not only does AdvaTech respond quickly to our problems and needed fixes, they have been very good about helping us find solutions to other things like adapting to more users, location moves, network upgrades, etc.

Gary C.
CFO, Solution Focused – Efficient IT Support – Great Value
The single biggest benefit of working with AdvaTech is being able to trust when I send in a request, or need help ordering new devices, the job will get done, and be done properly. Customer service is one million times friendlier that the firms we've used in the past and they are always willing to go above above and beyond to help me figure out how to fix problems for good.

Elizabeth C.
Office Manager, Problems Fixed for Good – Seamless Transition – Worth the Money