IT Company for McKinney
Expert IT Company Delivering Support and Cybersecurity Solutions in McKinney, TX
25+ Years of Excellent Service
Businesses in McKinney
Rely on IT Companies for Secure Operations
Are you a small to medium business owner in McKinney who recognizes the importance of a reliable IT company for seamless and secure operations? Look no further than AdvaTech Solutions! We specialize in providing top-notch Managed IT Services that are customized to suit the needs of businesses in McKinney. With our expertise and unwavering commitment to meeting your unique requirements, we guarantee that your business will thrive. Trust us to deliver the reassurance and peace of mind you deserve. Join forces with AdvaTech Solutions today and experience exceptional IT Services in McKinney like never before!
McKinney Benefits from an IT Company Like AdvaTech Solutions
Rapid Response
Experience lightning-fast technical support that minimizes downtime, resolves issues quickly, and keeps your business moving forward without skipping a beat.
Regulatory Compliance Expertise
Stay ahead of complex regulations effortlessly. Benefit from the knowledge and guidance of IT Support professionals who specialize in regulatory compliance, safeguarding your business and avoiding costly penalties.
Budget-Friendly
Get the most out of your IT investments while staying within budget. Managed IT support services provide cost-effective solutions tailored to your needs, ensuring maximum value for your investment and all for a flat monthly rate.
Boosted Efficiency
Enjoy faster computers and network performance, empowering your team to work more efficiently, increase productivity, and deliver results with ease.
Seasoned IT Professionals
Gain peace of mind knowing that your IT infrastructure is in the hands of experienced and knowledgeable experts. Tap into the skills of seasoned IT professionals who understand your industry and can address your unique challenges effectively.
Happier Staff
Empower your employees with reliable and efficient technology solutions. With managed IT support services, they can focus on their core responsibilities, free from frustrating tech issues, leading to increased job satisfaction and a happier, more engaged workforce.
Other McKinney IT Services
At AdvaTech Solutions, we go above and beyond to deliver exceptional Managed IT Services exclusively tailored to the unique needs of businesses in McKinney, TX. Our team of highly skilled IT professionals are dedicated to empowering your business to thrive like never before. With our comprehensive range of services, including top-notch computer and laptop support, dedicated applications support, rock-solid server support, ironclad network security, and efficient Microsoft 365 support, rest assured that all your IT needs will be handled with utmost care. Get ready to experience the transformative benefits of partnering with the leading IT Company in McKinney and let us drive your business towards unparalleled success.
IT Helpdesk Services
Get prompt and efficient IT support from AdvaTech. Speak with our DFW-based technicians for swift assistance. With remote support, we resolve most issues quickly, minimizing disruptions. Rest assured, we dispatch technicians promptly if needed.
Onsite IT Support
At AdvaTech, our engineers deliver remote support to resolve most business issues promptly. If necessary, we'll schedule an on-site visit to inspect and troubleshoot problems, ensuring optimal IT performance and preventing outages.
Microsoft 365 Migrations
At AdvaTech, we help businesses migrate seamlessly to Microsoft 365 with our expert assistance. Safely transfer email accounts, calendars, contacts, and file shares, ensuring a smooth transition and enhanced collaboration capabilities.
Firewall Installs
Secure your network with professional firewall installation services. Benefit from enhanced protection against cyber threats, safeguarding sensitive data, preventing unauthorized access, and ensuring peace of mind for your business.
Wireless Network Installs
Ensure a secure wireless network installation for your business. Experience seamless connectivity, increased productivity, and enhanced mobility while protecting sensitive data from unauthorized access.
Data Backup Monitoring and Testing
Ensuring data backups are regularly monitored and tested is crucial for business continuity. It safeguards against data loss, enables swift recovery, and provides peace of mind in the face of potential disruptions.
Hardware and Software Support
AdvaTech excels in providing expert hardware and software support. Our team of professionals ensures seamless integration, rapid troubleshooting, and reliable solutions to keep your systems secure and optimized.
HIPAA and PCI Compliant Networking
Ensure the utmost protection for sensitive data with AdvaTech's HIPAA and PCI compliant networking solutions. Trust our industry expertise to safeguard your information, providing peace of mind and help with regulatory compliance.
Quick and Easy Onboarding
Step 1Sign Up
For Services
Step 2We Conduct an IT Assessment and
Report the Findings
Step 3Start Getting
Support
HEAR WHAT OUR CLIENT HAVE TO SAYWE LOVE THEM
Why Choose AdvaTech for Your IT Company in McKinney
Responsive IT Support
At AdvaTech, we prioritize swift and efficient IT support. Speak directly with our DFW-based IT Support technicians for prompt assistance. With our remote support capabilities, most issues are resolved quickly and efficiently, minimizing disruptions to your business. If necessary, we dispatch technicians promptly.
Onsite Engineers
AdvaTech's Onsite Engineers offer a crucial advantage when remote support isn't enough. With our expertise in cybersecurity and IT support, we provide hands-on assistance to resolve complex IT issues efficiently. This ensures minimal downtime, maximum network and computer security, and peace of mind for our clients.
Quality Services
AdvaTech's Quality IT Services offer numerous benefits for businesses seeking top-notch security and reliable IT support. With our industry-specific knowledge and expertise, we ensure the safety of your IT operations. Experience guaranteed satisfaction, proactive support, and peace of mind knowing your business is in capable hands.
IT Company for McKinney Businesses: Delivering Reliable Technology Solutions
Welcome to the ever-evolving world of technology! If you're seeking a game-changing solution for your business in McKinney, look no further than Managed IT Services. Embracing the power of technology is crucial, but keeping up with the latest hardware and software updates can be a hassle. That's where our dedicated team at AdvaTech Solutions steps in as your trusted IT partner.
Say goodbye to the worries of downtime and data chaos. Our IT Company offers a comprehensive range of cutting-edge solutions that fortify your business against disruptions. Whether it's robust network security for safeguarding your sensitive information or seamless data backups that provide peace of mind, our experienced tech experts ensure your operations consistently perform at their peak.
Regardless of whether you're a small business owner or the CEO of a major corporation, partnering with a reputable IT Company for your business in McKinney is the secret to supercharging your operations. In today's technology-driven landscape, having a reliable IT partner like AdvaTech Solutions becomes indispensable. By entrusting your technology infrastructure to our capable experts, you can sharpen your focus on core competencies and achieve your goals faster and smoother than ever before.
Gone are the days of being held back by technology. It's time to harness the power of AdvaTech's Managed IT Services in McKinney and elevate your business to new heights. Contact us today and let AdvaTech Solutions become your trusted IT Company on the path to success. Together, we'll embrace the future and propel your business forward in the digital age.
IT Company for McKinney Businesses
Frequently Asked Question's
What does a McKinney Managed IT Service Provider do?
As a Managed IT Services Provider (MSP) in McKinney, we deliver comprehensive IT support and customized solutions to businesses in the area. Our dedicated team is committed to offering exceptional IT support and cutting-edge solutions that are tailored to meet your specific requirements. With proactive monitoring of your network, round-the-clock technical assistance, unlimited helpdesk support, and predictable monthly fees, we provide comprehensive coverage. Rest assured as we possess the expertise to manage and optimize your technology infrastructure, ensuring smooth operations and robust data security. Partner with us to prioritize what truly matters for your business, while our experts cater to all your Managed IT Services needs in McKinney.
How can your Managed IT Services in McKinney help my business?
Businesses in McKinney can leverage the advantages of managed IT services. These services offer expert guidance and support, guaranteeing smooth management of technology infrastructure and improved data security. With 24/7 technical assistance and unlimited helpdesk services, businesses can rely on timely resolutions for any IT concerns. By partnering with a reputable IT company, businesses can prioritize their core operations while entrusting the complexities of IT management to professionals. Discover the ease and dependability of Managed IT Services McKinney right now!
What if my business in McKinney already has an IT Support staff?
Despite having IT support staff, collaborating with a Managed IT Services provider presents significant benefits. Let me introduce you to Co-Managed IT, an innovative partnership that enhances your current team with additional expertise, resources, and a proactive approach to managing technology infrastructure. Together, we will provide comprehensive support and greatly improve the efficiency of your IT operations. Let's harness the power of technology to meet your needs!
How do I decide if I need Managed IT Services for my McKinney business?
Are you uncertain whether Managed IT Services are a good fit for your business in McKinney? Take a moment to consider the advantages: enhanced cybersecurity, proactive technology management, 24/7 support, and access to a team of knowledgeable experts. Evaluate your existing IT infrastructure, available resources, and future goals. Engaging in a consultation with a dependable IT Company will assist you in making an educated decision.
Do you offer Managed IT Services in McKinney to all types of businesses?
AdvaTech Solutions, your trusted partner for exceptional Managed IT Services in McKinney. We are dedicated to providing customized solutions that cater to the specific requirements of businesses, irrespective of their size or industry. With our team of highly skilled IT professionals and cybersecurity experts, we ensure unparalleled support and the latest advancements in technology. Join us today to experience our professional services and safeguard the integrity of your business's IT infrastructure.
How much will your Managed Services cost my McKinney business?
Curious about the price of our Managed IT Services for your McKinney business? Rest assured, our pricing is tailored to offer not only competitive rates but also top-quality support. We take into account various factors, ranging from the number of employees and computers to security requirements and compliance regulations that need attention. Let's embark on this IT journey together!
Can you recommend hardware and software for my company in McKinney?
At AdvaTech Solutions, we specialize in providing customized hardware and software solutions for businesses based in McKinney. Leveraging our extensive understanding of various vendors and products, we strive to assist you in making optimal choices that align seamlessly with your specific needs. Trust us to handle the configuration, installation, and optimization of your technology infrastructure, guaranteeing a hassle-free experience tailored just for you.
Not Ready to Book a Discovery Call Yet?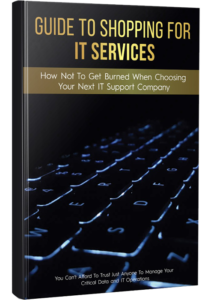 "What Every Small Business Owner Must Know About Protecting And Preserving Their Company's Critical Data And Computer Systems"
This report will outline in plain, non-technical English common mistakes that many small business owners make with their computer network that cost them thousands in lost sales, productivity, and computer repair bills, as well as providing an easy, proven way to reduce or completely eliminate the financial expense and frustration of these oversights.