Free Executive Brief Reveals
The Top 10 Ways Hackers Get Around Your Firewall And Anti-Virus To Rob You Blind
Cyber Crime
Cyber Crime is at an all-time high, and hackers are setting their sights on small and medium businesses who are "low hanging fruit." Don't be their next victim! This report reveals the most common ways that hackers get in and how to protect yourself today.
In this free executive brief, we cover:
The #1 threat to your business that even the BEST firewalls and anti-virus software can't protect against (and what you need to do now to remedy it).
A common misconception about employee devices on your office network and exactly what you need to do now to shut this down immediately.
The shocking facts about why small business are the #1 target of cyber criminals – more than half of the reported cyber-attacks are focused on small business for this one main reason that is easily-fixed.
How to keep your network secure with the proliferation of mobile devices, cloud applications, e-mail, and social media sites connecting to your computer network.
To Download Your Free Copy Today, Simply Fill Out the Form on This Page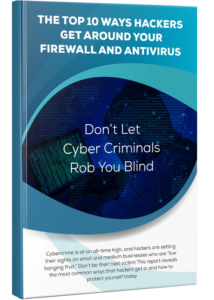 We started working with AdvaTech in late 2009 and have been very satisfied with the services. Not only does AdvaTech respond quickly to our problems and needed fixes, they have been very good about helping us find solutions to other things like adapting to more users, location moves, network upgrades, etc.

Gary C.
CFO, Solution Focused – Efficient IT Support – Great Value
The single biggest benefit of working with AdvaTech is being able to trust when I send in a request, or need help ordering new devices, the job will get done, and be done properly. Customer service is one million times friendlier that the firms we've used in the past and they are always willing to go above above and beyond to help me figure out how to fix problems for good.

Elizabeth C.
Office Manager, Problems Fixed for Good – Seamless Transition – Worth the Money