Layered Approach to Cyber Security Solutions
Simple - Affordable - Headache Free
Cyber Security Solutions
Navigating the realm of IT Security is a daunting and expensive venture without expert guidance from a professional company trained in all facets of security.  The majority of all small and medium businesses are still relying on locally installed antivirus and traditional firewalls to protect their data and systems which has proven to be ineffective at stopping all modern day attacks. This is where AdvaTech Solutions can help. We offer managed IT Cyber Security solutions to companies just like yours.
What Are Managed IT Cyber Security Solutions?
When customers come to us for a security solution, they're typically looking to outsource all of their IT services to trained professionals because it's cost-effective and easier to manage. Our Managed IT cyber security services are provided as a monthly flat rate that includes everything you need to stay safe. There's no surprises or hidden costs, just a simple price for peace of mind. Our specialists will answer your IT-related questions and advise you on what solutions are best for your company.
Cyber Security Services
Managed Firewall w/ Intrusion Detection, Intrusion Prevention, and VPN
Managed Antivirus and Anti-malware
Managed Email based SPAM and Virus Protection
HIPAA Risk Assessment
Employee Security Training (General and HIPAA)
In order for your company to run efficiently, then you need a great Dallas IT support team. Companies that are well-run in all aspects are companies that make money. You can't manage and grow your company without help from professional IT specialists.
Let AdvaTech Solutions Provide You With Quality Cyber Security Solutions
Our company has over 20 years of industry experience helping companies like yours improve their IT infrastructure. Your business is a priority to us and we'll always be here for you when you have questions or concerns. Get in touch with us to learn more about our solutions and what we can do for your business.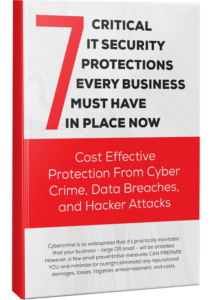 Don't even think about calling a computer consultant before you read this!
If you are a business owner looking for computer support then it's critical that you get and read this small business advisory: