Managed Service Providers Dallas TX
An IT department is expensive to run and if your company isn't large enough, you most likely can't afford to hire an entire department to take care of technology issues. This is where AdvaTech Solutions can help. We are a Managed Services Provider in Dallas TX offering managed IT services to companies just like yours.
What Are Managed IT Services?
When customers come to us for solutions, they're looking to outsource their IT services to trained professionals because it's cost-effective and easier to manage. Our Managed IT services Dallas are a monthly flat rate that includes everything. There's no surprises or hidden costs, just a simple and easy to understand monthly rate that you can easily budget. Our specialists will answer your IT-related questions and advise you on what solutions are best for your company.
Dallas Texas IT Services
Our managed IT customers often need help getting their network onto the right platforms. We provide suggestions that will work for your company and your budget. Our monthly flat rate includes the following IT services:
Support for Your Laptops and Computers
Server Support
Network Equipment Support
Application Support
24/7 Engineer Support
For your company to run efficiently, you need a great Managed IT Services Dallas support team to keep your computers and network running efficiently. Companies that are well-run in all aspects are companies that make money. Manage and grow your company with help from a Dallas TX Managed Service Provider.
Our Managed IT Services Department Includes
All For A Simple, Predictable, Flat Monthly Rate.
What Our Clients Say
We started working with AdvaTech in late 2009 and have been very satisfied with the services. Not only does AdvaTech respond quickly to our problems and needed fixes, they have been very good about helping us find solutions to other things like adapting to more users, location moves, network upgrades, etc.

Gary C.
CFO, Solution Focused – Efficient IT Support – Great Value
The single biggest benefit of working with AdvaTech is being able to trust when I send in a request, or need help ordering new devices, the job will get done, and be done properly. Customer service is one million times friendlier that the firms we've used in the past and they are always willing to go above above and beyond to help me figure out how to fix problems for good.

Elizabeth C.
Office Manager, Problems Fixed for Good – Seamless Transition – Worth the Money
AdvaTech Solutions - Providing Managed IT Services For Over 20 Years
Our company has 24 years of industry experience helping companies like yours manage their IT systems. Your business is a priority to us and we'll always be here when you have questions or concerns. Get in touch with us to learn more about our Managed IT solutions and how we can help your business today.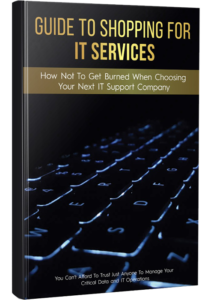 Don't even think about calling a computer consultant before you read this! If you are a business owner looking for computer support then it's critical that you get and read this small business advisory: An Insider's Guide to Choosing a Professional, Honest, Reliable, and Competent IT Support Company.